NEXT EVENT:
Tuesday, December 11th, 2018
Event cancelled for 2018
Welcome to one of the most exciting 24 hours in the live music world!
The Ninth Global "Ask A Conductor" Day on Twitter
Click it to Tweet it: Join us for #AskAConductor Day Tues 11 Dec '18 – ask whatever you like!
(click here to see the transcript of the 2012 Ask A Conductor Day!)
This is where YOU finally stop wondering what Conductors do and how they do it, because you get to ask a whole bunch of international conductors just about any music-making question you want! Whether it be really basic such as "Do your arms get tired?" or really challenging such as "How would you teach the rhythmic complexities in Les Noces?" this is your opportunity to learn and absorb, with the hope that you will enjoy live performances even more.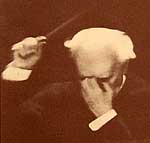 Conductors from Australia, Finland, Germany, UK, USA and so many more places can answer questions about:
Orchestras
Choirs
Musicals
Films
Studio
Chamber Music
and much more.
Be ready and ask away, using the link: http://tweetchat.com/room/askaconductor
NEXT EVENT:
Tuesday, December 11th, 2018