A couple of months ago I was appointed Conductor of the 40+ year old Clearwater Chorus. It's an ensemble of people who like to sing, and encourages adults of varying ages and abilities to make and share music together.
At least, that's what it is now.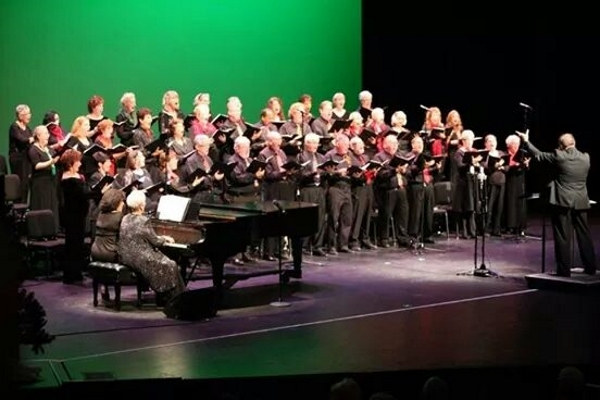 Although not titled a "Director" that is effectively my role and as a result, I've grabbed hold of the reins and am guiding the ensemble through a new perspective: who we have and what we do now is what we are, and as long as we work together to share music, we'll be doing something of value to the world.
[Click here: I'm giving away four tickets to our concert on Dec 22!]
Why is this so new? Because like so many institutions that are founded and/or led by an individual for so long (in this case, Arthur Goetze who directed the group from 1975-2005), its members can become entrenched in "the way things were." This is also a very typical perspective of older generations, especially those who have worked their whole lives and are now enjoying a few special comforts in retirement: they expect things to stay the way they know them. But that is so rarely beneficial for anyone, and certainly not how the world spins.
So whilst respecting the past and honoring those who have gained far more experience with this ensemble than I ever hope to, it is now time to focus not on what we don't have but on what we do…
Doesn't this pertain to life in general?
For example, over the past 12 years I have mourned the loss of an active performing and teaching career founded in music, something I have known to be a primary part of my existence since I was in single digits. My music career after moving to the USA has been patchy, fraught with unconfidence, some expensive decisions, and a distinct lack of industry contacts that don't label me an outsider.
But this current appointment has, unexpectedly, brought me right back to square one – the roots from which my fascination with music grew.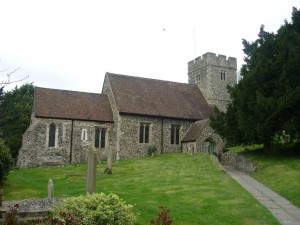 I was 7 years old when I began playing the piano, but that was after I began singing in my English village church choir. I remember joining the village Junior School choir around the same time, as well, but by the time I had moved to my UK secondary school at age 11, I was fully immersed in singing, piano and clarinet. It wasn't until just before I moved to the USA the first time that I showed any interest in percussion (and if you know me, it was an incredible 4 years of percussion playing that got me into college at 17 years old! More on that another time, perhaps).
During my college years a budding-conductor buddy of mine, Chris Kiver now a Choral Professor at Penn State University, and I would organize "Scratch" singing sessions in which anyone who wanted to play and sing the repertoire we had planned could do so. Of course we did much recruiting, but giving solo parts to multiple singers throughout each piece enabled them to get much needed experience, and Chris and I to learn many differing needs of accompaniment.
In the years that followed college I conducted various ensembles such as the Ealing Choral Society (thanks to the late great James Gaddarn), the Yalding Choral Society, the Medway Community College Singers, and a whole host of other one-off groups. Four highlights in particular were:
Conducting Handel's complete Messiah with 5 days' notice when the conductor who was booked fell ill,
Conducting a "Marathon Singing Session" in which almost 1,000 teenagers sang hymns, easy listening songs and some chart songs,
Conducting the European Premiere of Dawn Mantras (outside, at sunrise) by Australian composer Ross Edwards during the UK's year-long Millennium Festival in 2000, and
Singing for John Rutter at Carnegie Hall in his own composition Magnificat.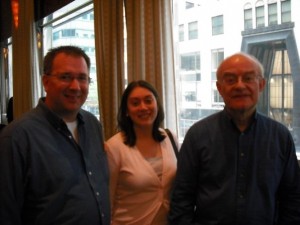 In addition, I played timpani or percussion for countless choral societies around the UK in more pieces of music than I can remember – hundreds. And, being a percussionist usually with lots of time not actually playing, I got to listen to conductors rehearse their choirs, listen to the choir members mutter under their breath, and have choir members (usually altos) unsolicitally (?!) share their awe about how anyone could actually play the timpani: "I never knew they had pedals like that!"
Interestingly, only a handful of these choral activities "made the cut" onto my resume, so when most folk read my history of musical performance, they see "instrumental conductor" or even just "music teacher." It's quite annoying, really, because although conductors in the UK and Europe are trained to be teachers (hence the general reference to them as "Maestro") in all genres of "formal" music – orchestral, choral, opera, musicals, some concert/wind band and maybe even ballet – in the USA conductors are labelled at a young age and 'specialize' not in leadership or motivation, but as a topical expert in just one of those genres. It's such a pity.
Of course there are exceptions such as James Levine. Kind of. And the incomparable Leonard Bernstein. But generally, conductors in the USA are rarely recognized as even "capable" of conducting well in more than one musical genre. You can tell when a choral conductor has an orchestra in front of them, and you can tell when an orchestral conductor now has to deal with a choir, too. I'm quite proud of the fact that I was taught and expected to work with both, so now that I'm working with the Clearwater Chorus (this links to our Facebook page – please Like it!), not only do I feel comfortable and confident that I can help produce a good sound, help the singers sing together, and focus on sharing good stories and music with others (including the audience), but it is also bringing me back to my roots in music – as that little angelic Church of England choir boy in my village.
For your entertainment: This is one of my favourite Bernstein performances of showmanship, especially around the 5 minute mark. It's even more engaging because of the video/ audio mis-synching!