Sometimes it starts with a title. Sometimes a melody. It could be based on a chord progression. But at the heart of any piece of music I write, there is structure.
This is an exploration of the way I compose. You may think it intriguing, fascinating, incorrect, backwards, exemplary, but none of that matters to be honest. Authors write novels in different ways, and composers are no different. I can't even say this is my 'method'. What I can say, is that in this highly productive era of musical output in my life, this is how I'm composing right now. Let's explore the organic growth of a new piece of music, as it's being written.
It's a risk! There are extremely productive weeks, and weeks where other things in life get priority. So, either I'm taking a risk and hoping I'll have enough material to share with you, or I'm setting myself an unconscious goal of having made sufficient progress on the piece that there's something worth writing about.
Tweetable:
Project blogging risk: has sufficient progress been made to have something worth blogging about? via @Stephen_P_Brown
Today, we launch the new. A brand new piece of music. Let's take this creative journey together:
This time, I'm actually starting with the instrumentation. It's very easy in this case because it is already defined. I am writing for the Patel Conservatory Composer's Orchestra – one of the ensembles in the Patel Conservatory Youth Orchestra program. Why does that make it easy? I already know two things:
What instruments to include in the composition, and
The skill level of each of the players.
When left to my own devices (i.e. not having any specific players in mind), my mind often wanders into the realm of "is it even possible to play like this?" as I'm composing. Not good! So, knowing who the performers are and what they are capable of playing is a huge benefit.
Our new piece is being written for the following instruments:
Flutes (2)
Oboe
Clarinet
Bassoon
French Horn
Bass Trombone
Violins (3)
Viola
Cello
Bass (Double Bass/ Contrabass)
That's it! That's my first step. In my incredibly useful composing software, Sibelius, I'm going to create a score for just these instruments.
Oh! Here it is! (Click on it to see a larger version)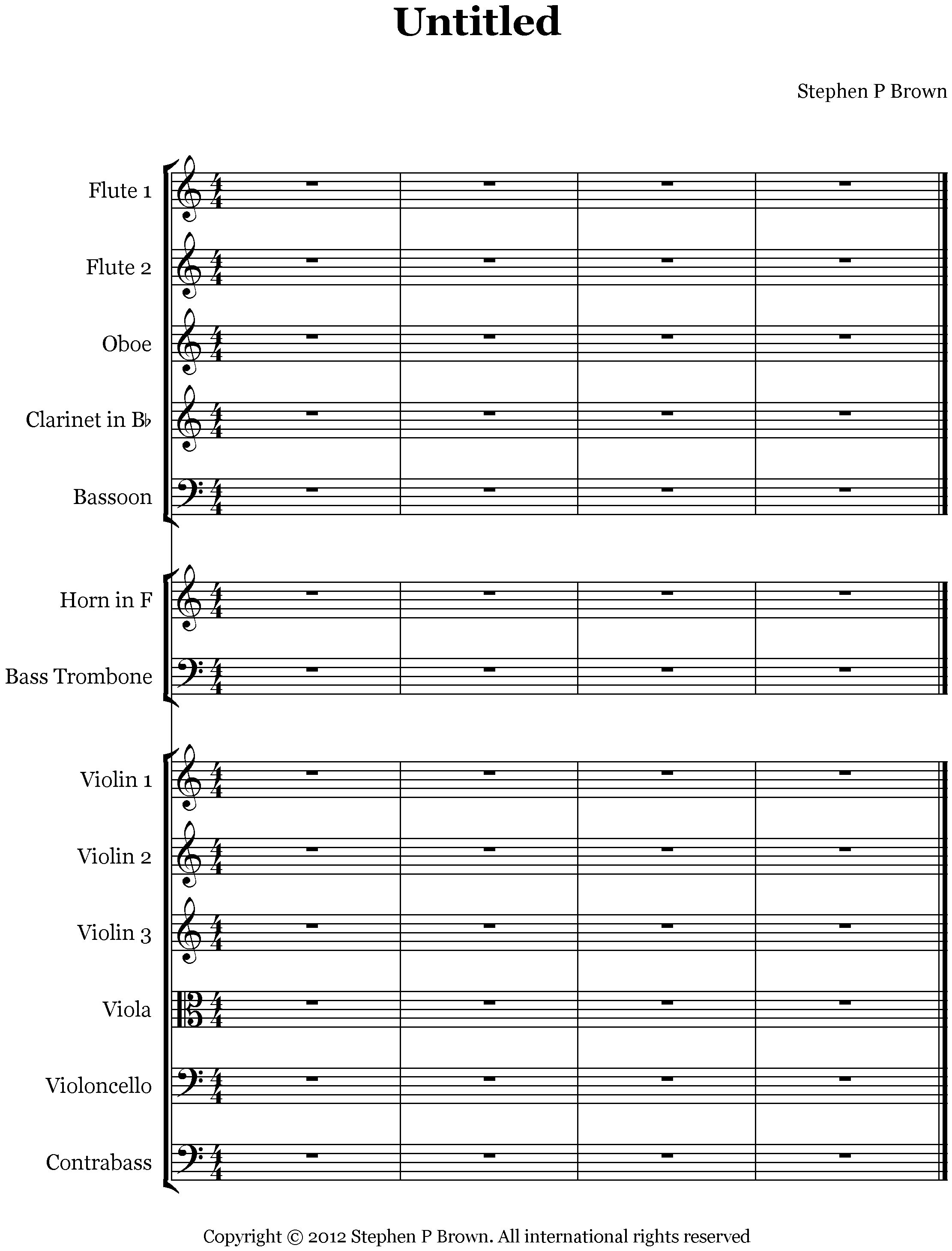 What you may notice is some generic stuff I haven't decided upon yet – like, the title. The time signature is also 4/4, which means four crotchet (quarter note) beats grouped together in each bar, but I might change my mind about that. There's also no tempo (speed) marking in the top left corner, and no key signature which determines which common group of notes to include (for example – the piano's white note "B" or the black note next to it "Bb")
That'll come next week…