How I compose: Step 2 – Instrumentation
A couple of weeks ago I shared how I start composing each of the pieces in my composition quest. It seemed to be a popular post!
So after I've read the psalm, understood its meaning through commentary, and established the structure for my piece, the next step in composing music for me is choosing the instrumentation.
Instrumentation.
The purpose of this quest is to improve my composing skills. One of my dream goals is to finish the quest by writing a piece of music based on Psalm 33 for large chorus and full orchestra. That's a lot of people and parts, and like an Olympic Triathlete or Astronaut, there is a ton of preparation. Knowing the insides and out of every instrument, including the human voice, is imperative before tackling a huge opus.
That's partly why this quest will take 7 years and 150 pieces – writing for solo and small groups of instruments will teach me a great deal about how those combinations work together and how they don't. Think of Ravel's "masterpiece" Bolero. Familiar with it? Very popular nowadays but guess what – it was an exercise. Maurice Ravel wrote the piece to learn what different instrumentation combinations would sound like. He never meant it to be a concert hall piece, or a film score! (10, starring Dudley Moore and Bo Derek). Below is a truly awe-inspiring ensemble Blast! performing Bolero:
Therefore, for this first year I am selecting mostly small chamber music ensembles for my instrumentation – a wind quintet, a brass quintet, a string quartet, trios, duets, solos. Piece #6 is a little more ambitious as I'm combining both the winds and brass together. In fact, it's written for "Chamber Orchestra Non-Strings!" Think of a chamber orchestra that plays Mozart or Haydn, and take away all the violins, violas, cellos and double basses. I'm composing for everyone else.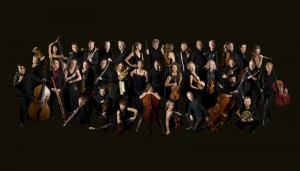 There is lots of string music out there, but not much just for the winds and brass, so hopefully this instrumentation will work and it will become a part of the normal orchestral repertoire.
But for those of you waiting for a large orchestra piece… Sorry! You're gonna have to wait awhile. At least another year or two.
Right. Time to get back to the music…
Thanks for reading.