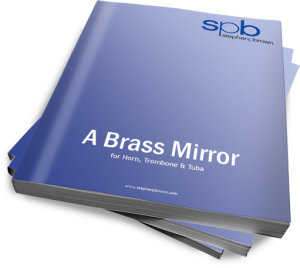 The second composition in a massive 7 year project to compose 150 pieces of music based on each of the 150 psalms in the Bible.
"A Brass Mirror" is based on Psalm 143, and is structured in a similar way: After an introduction there is a Prayer for righteousness (let's call that section A), then a Lament (B), some petitions (variation of B) and finally the Prayer again (a slight variation of A). I had thought about writing this piece in the style of a disco beat, based on its structure (ABBA), but thought better of it.
Thanks to the dedicatee Jim Stretton for sharing some thoughts and advice during the creation of this work. In the score is also a list of horn, trombone and tuba players that have contributed, in some way, to my knowledge and experience of these instruments – thank you.
4.5 minutes
Horn (in F), Trombone, Tuba
Traditional harmony, "conversational, hymn-like, & interesting rhythms."
Audio:
Sample page:
143_ABrassMirror_pg4
Download sheet music instantly using PayPal or a credit card:
| | |
| --- | --- |
| US page size (letter) – US$27 | UK page size (A4) – GB£17 |
Or send purchase orders to:
6e Concerts
3734 Haydon Court
Suite 201
Palm Harbor, FL 34685, USA

Stephen P Brown
33 The Maltings
Leighton Buzzard
LU7 4BS, UK
Feel free to add your thoughts about the piece below, especially if performers and/or audiences like it!