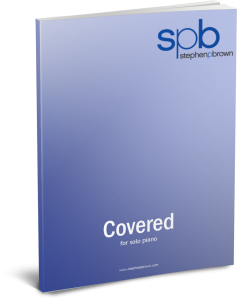 This piano recital piece is the third composition in a massive 7 year project to compose 150 new pieces of music by my 50th birthday.
Click here to read reviewers' comments!
Find out how this piece is structured!
"Covered" is based on Psalm 32, and is one of my most endearing pieces yet. Composed for solo piano the piece follows the same structure as its psalm – after an introduction, Section A reflects a Prayer for righteousness, followed by a story of life experience (B) and protection (C). In the middle, Section D is God's voice promising Wisdom, followed by a more energetic tale of experience (B) and protection (C), before ending with a blessing of righteousness (a reversal of Section A's structure).
This piece has been dedicated to a number of my loyal readers and fans, who directly supported a KickStarter campaign that helped create this piece and its audio renditions.
6 minutes
Solo Piano
Ethereal, journey-like, rain and rainbows, a voice of authority
Audio:
Sample page:
032_Covered_pg2
Download sheet music instantly using PayPal or a credit card:
| | |
| --- | --- |
| US page size (letter) – US$27 | UK page size (A4) – GB£17 |
Or send purchase orders to:
6e Concerts
3734 Haydon Court
Suite 201
Palm Harbor, FL 34685, USA

Stephen P Brown
33 The Maltings
Leighton Buzzard
LU7 4BS, UK
Feel free to add your thoughts about the piece below, especially if performers and/or audiences like it!
Piano Solo Reviews
Here is some feedback from an independent review panel of anonymous Reverbnation listeners:
"Have no idea where the song is headed within the first 30 seconds, which keeps me interested and I want to keep listening to find out. At about minute the song gets real interesting and seems like a ballet. It is a great and original piano work. Unique tone and style"
Find out how this piece is structured!
"The piano is very calming and nice to listen to. Reminds me of something I would hear during a ballet. The break and change of tempo from slow to fast gives the song a dramatic feel. This is a great piece of work."
"I love the calm vibe that it gives, not too harsh but not too soft. The piano is the most romantic type of instrument that there is. While listening to this song it kind of made me sad at first but I kept listening to it and it seem like it was kind of like telling a story. I like the fact that this song does not have any lyrics to it, I feel like the song speaks for itself."
"Interesting start. 🙂 WOW I love this. It sounds so good for the ears. The tempo is great and it just makes you want to listen. I like when there are pauses and you're waiting to see how it will keep going. I just love this song soo much I have to give it 10 out of 10."
"The simplicity, yet slow beauty of the intro makes the listener interested because it 's so different. This suddenly leads into a high pitched shrieking of keys which only makes them more interesting. Then it turns into a very dazzling, beautiful string of keys. I love it."
"I love the slow introduction. It is a little creepy and spooky yet really exciting."
"Very peaceful piece of music. It was lovely to listen to. It didn't have any lyrics, however I did not feel it needed any. The music spoke for it self. Very calming and soothing. I would recommend this track. It is very beautiful."
"Minimalistic is rare these days in music. Its fresh to hear music that relies on one instrument. It started off sounding like my cat just walked over my piano. Then it turned into a beautiful piece of music. This track could be one of my inspirations."
"Very simple and slow start gives the promise of a big change later on. The experimental nature of the piece is very enjoyable. It almost has a childlike fairy tale quality to it."
"It kind of reminds me of swan lake and has a calming effect on me."
"This song really seems to have a very quiet demeanor. You have a really nice classical sort of tone that feels great. I feel that the way that your music comes in is a bit scary at times. I love the way this creeps up. You really seem to have a lot of great direction – sounds bright at certain moments then very dark at the same time."
"I think that this musical piece is very artfully made. The piano sounds very arresting. The simplicity of the piece also adds to its effect."
"This is a very soothing song. It brings me into a relaxing state. It has a lot of character and the tune is incredible. This song is one I would mostly listen to when I need to get relaxed from a hard days work."
"The first few piano notes lured me into this song. The musical piece went from slow and peaceful to something a little quirky and then moved on vibrantly to full-on awesome. I thoroughly enjoyed listening to this piece, and I would love to hear more from this artist.  This song is beautiful and I really enjoyed it."
"It was very gentle and soft, and would be something that I would imagine a ballerina dancing to."
"It sounds like Christmas music."
"Beautiful introduction. The rhythm is smooth and attractive. Very cute melodies sound like a Christmas song. Beautiful music. Unique and 100 percent original."
"This piece starts softly with a lovely piano, before getting louder (forte). The tempo of the piece does starts slow which is a nice treat for the listener. The chord progression at 2:05 has a contrast of positive and negative chords such as major and sharp chords which resonates with the composer Shostakovitch. This piece is really nice and I would definitely like to hear more from this composer"
Find out how this piece is structured!
"A very unusual beginning. Makes you want to listen to see what's next. Flows more as goes on showing the talent come through. Sounds very sweet and calm. It isn't something you would usually hear and the tempo changing as it goes on is engaging. Shows contrast and what can be done. Great how it is simply just the piano. Gets more complex as goes on which is great. Beats changing from fast to slow were good. The rhythm is nice how it begins to flow but then becomes sharp and jagged. Shows the different elements of piano playing."
"Never heard so much simplicity in a song. After a while the song changes in to a better more complex mysterious dark sound and after another simplicity section the song becomes a kind of church state and goes back to its mysterious sound. It sounds like a mix of progressive and classical music. Very experimental and somehow rare song."
"This song made me feel like I was in a magical fairy tale land and it was an amazing experience to listen to. I liked how the song had many different personalities and attitudes. Even though the song had no words the piano told a story itself. I like this solo piano song a lot. It is out of this world and is so good that it does not need words to get a point or story across. I would listen to this everyday."
What do YOU think? Add your comments below…