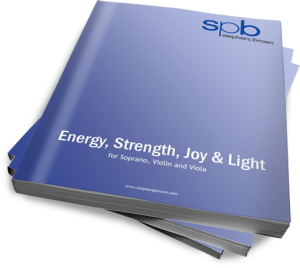 The first composition in a massive 7 year project to compose 150 pieces of music based on each of the 150 psalms in the Bible.
"Energy, Strength, Joy & Light" is based on Psalm 19, and contains characteristics of the poem's descriptive text. This piece's structure (12c3c4cc)  includes four verses interspersed and ending with a chorus based on the prayer at the end of the psalm. The soprano part includes both text and scat/ improvised sounds.
a little over 5 minutes
soprano, violin, viola
great for undergrad or graduate recitals
Audio:
(coming soon)
Sample page:
Psalm 19 – Energy Strength Joy Light – Pg7sample
Download sheet music instantly using PayPal or a credit card:
| | |
| --- | --- |
| US page size (letter) – US$27 | UK page size (A4) – GB£17 |
Or send purchase orders to:
6e Concerts
3734 Haydon Court
Suite 201
Palm Harbor, FL 34685, USA

Stephen P Brown
33 The Maltings
Leighton Buzzard
LU7 4BS, UK
Feel free to add your thoughts about the piece below, especially if performers and/or audiences like it!