[ssba]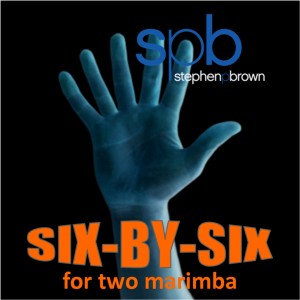 Subtitled "Connective Concentration in Seven" due to its tricky time signature, this "classical but groovy" piece is surprisingly intricate yet enjoyable to both play and listen to. Perhaps even watch! As a percussionist myself I am particularly partial to composing for percussion instruments, of which the marimba is but one. Marimba are incredibly expensive so I thought "what fun!" if we crammed as many players as is sensible onto just one or two instruments. If we did that, how would they avoid hitting each other, each other's sticks, and getting in each other's way? Easy – limit them to a certain number of notes.
So that's what I did.
Six notes each. You'd probably never guess it (heard the preview yet?). And no-one gets in anyone else's way, despite there being THREE players on each instrument. Six players with six notes each for six minutes.
"Stephen, congratulations on your new work Six by Six.  It is well deserving of many performances."
Robert McCormick, Professor of Music (Percussion), University of South Florida
6 minutes
6 players on 2 instruments
Designed to improve "ensemble" amongst players
Audio:
Download sheet music instantly using PayPal or a credit card:

| | |
| --- | --- |
| US page size (letter) – US$27 | UK page size (A4) – GB£17 |
Or send purchase orders to:
6e Concerts
3734 Haydon Court
Suite 201
Palm Harbor, FL 34685, USA

Stephen P Brown
33 The Maltings
Leighton Buzzard
LU7 4BS, UK
Feel free to add your thoughts about the piece below, especially if performers and/or audiences like it!