Sonata 2 (for Viola, Marimba & Piano)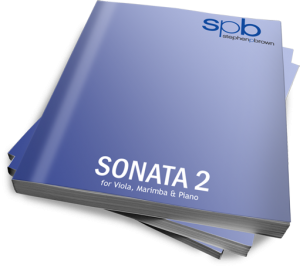 Click here to read how this piece was created
Sonata 2 is based on Psalm 102, and written for the most unusual combination of instruments which I believe you will find quite conducive to chamber music.
The piece is structured according to the traditional Sonata Form formula with contrasting themes (click here to see why), a development section, and after a recapitulation a little coda. This is a great piece for community and college recitals.
5:30 minutes
Viola, Marimba, Piano
"Surprisingly engaging"
Audio:

Download sheet music instantly using PayPal or a credit card:
| | |
| --- | --- |
| US page size (letter) – US$27 | UK page size (A4) – GB£17 |
Or send purchase orders to:
6e Concerts
3734 Haydon Court
Suite 201
Palm Harbor, FL 34685, USA

Stephen P Brown
33 The Maltings
Leighton Buzzard
LU7 4BS, UK
Feel free to add your thoughts about the piece below, especially if performers and/or audiences like it!