Sonata for Chamber Orchestra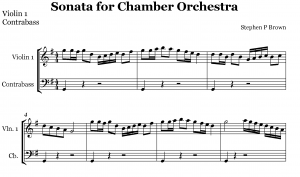 Click here to read how this piece was created
This piece was written for the Patel Conservatory Composer's Orchestra in 2012. The students liked it, it was fun to play & conduct, and very listenable for the audience.
5:30 minutes
Sonata Form
Standard and specific chamber orchestra versions available
Audio:
[ca_audio url_mp3="https://www.stephenpbrown.com/audio/SonataForChamberOrch-Brown.mp3″ url_ogg="" html5="true" skin="regular" align="none"]
Send purchase orders to:
6e Concerts
3734 Haydon Court
Suite 201
Palm Harbor, FL 34685, USA

Stephen P Brown
33 The Maltings
Leighton Buzzard
LU7 4BS, UK
Feel free to add your thoughts about the piece below, especially if performers and/or audiences like it!