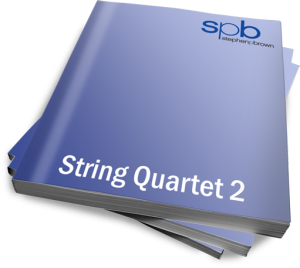 This is the eleventh composition in a massive 7 year composition quest to write 150 new pieces of music by my 50th birthday.
Click here to find out how this piece came about.
String Quartet 2 is based on Psalm 97, and structured in a similar way based on the meanings of some of the names of God:
Movement I – Yahweh/ Righteousness (man's or God's?)
Movement II – Adonai/ Justice (demanded by man, or commanded by God?)
Movement III – Elyon/ Judgment (our own, or God's?)
Interestingly, each movement contains some sort of instruction or command – text inserted underneath the music that indicates what the music is trying to say. For example, the main melody in movement II includes the text "Justice! I want Justice!" Although, it is undetermined who is speaking: does it represent man's demanding justice for what s/he considers right and proper and true according to their own morals and expectations, or is it actually God declaring that despite whatever man thinks, God is the one who provides justice? Performers and listeners alike will already need some sort of predetermined perspective on this in order for the music to make sense to them.
Listen out for the dialogue between movements II & III in which the cello and viola team up in harmony, but the violins laugh and reject their idea. Until the second violin joins in and eventually the first violin has a go, too. Soon, all the performers are making music in harmony like innocent children making up a game in a playground!
11 minutes
Begins in a traditional style and ends with a more contemporary feel
Independent anonymous review panel feedback: "Reflective"
Audio:
Download sheet music instantly using PayPal or a credit card:
| | |
| --- | --- |
| US page size (letter) – US$27 | UK page size (A4) – GB£17 |
Or send purchase orders to:
6e Concerts
3734 Haydon Court
Suite 201
Palm Harbor, FL 34685, USA

Stephen P Brown
33 The Maltings
Leighton Buzzard
LU7 4BS, UK
Feel free to add your thoughts about the piece below, especially if performers and/or audiences like it!