Highest Chart Position Yet!
Well, I was going to write another "How I compose" post, but this topic topped the chart – literally.
Reverbnation is an online outlet for all unsigned/ independent musicians – any style, any genre, any age, any stage of life. There are currently 2.5m (that's 2,500,000) performers active on Reverbnation promoting their wares, and guess what…
The Charts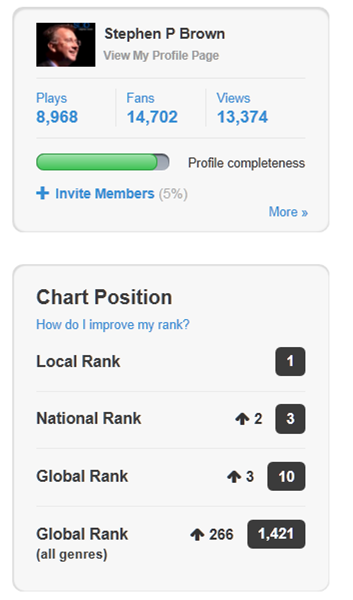 I'm #1 in the Tampa Bay Classical Music Chart!
But,
I'm also #3 in the US Classical Music Chart!!!
AND
I'm #10 in the GLOBAL Classical Music Chart!!!!!!!!!!
Yes, that deserves 10 exclamation marks.
Because of YOU!
This is incredible news, and it's all down to YOU. Thank you. Thank you for listening to my music, especially at the outset of this huge composition quest.
And if you want to see me get to #1 in the US, or even globally, please do use the social media buttons below to share this great news! Especially on Facebook, Twitter, Digg, Reddit, SumbleUpon, Google+ and LinkedIn. Go on – be generous and SHARE THIS POST!
Or, click it to tweet it:
See latest #classicalmusic chart positions for unsigned independent musician @Stephen_P_Brown 
Thanks, again.
Lots more wonderful original music on its way…
Global chart position
By the way, if your read the chart table above, you'll notice I'm #1421 globally in ALL GENRES – that means, every style of music. Out of all 2.5m musicians on Reverbnation, this classical musician is #1421! Cool, huh? (Just did a quick calculation: that puts me in the top 0.06% of all independent performers globally!)
You may also be interested to know who is the #1 independent Classical Musician in the US? Well, it's Jarrod Radnich:
Do you think it might help if I arrange some movie music as opposed to compose original traditional classical? Hmm…
(Or is it the hair?)