Next piece: Wind Quintet 2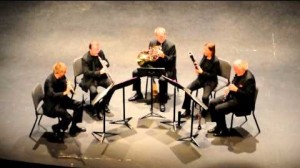 Yes, I'm forging ahead!
Why? Because I know that as I improve my composition skills (the purpose of this entire project) I am learning how instruments sound and work together and I will be wanting to compose for larger combinations of instruments, such as a full orchestra. Writing such a piece will take a lot more time. If I can get ahead in the project now, it will allow some flexibility for taking longer on the bigger pieces.
For example, this next piece is a Wind Quintet. That's the standard combination of woodwind instruments (plus French Horn) found in most Western ensembles – flute, oboe, clarinet and bassoon. However, in this piece the five performers are required to play a total of 11 instruments.
Huh?
There is something in the music world known as 'doubling'. This is when a performer can play more than one instrument, usually related to their main instrument. For example, a flute player may also play the piccolo, or the alto flute. A bassoon player may also play the deep, funky contrabassoon.
So, in my composition "Wind Quintet 2" each of the woodwind performers are asked to play their most common 'doubling' instruments at some point. Only the French Horn is the stabilizing timbre (or, tonal quality).
Now, about the music…
Click here to get your copy of the score and parts
It is based on Psalm 91, one of six categorized as a Confession of Trust according to Matt Baker (accessed April 13, 2013).
Again, I've structured the music around the structure of the psalm, which provided an engaging framework to work with:
According to the Longman and Garland expository commentary, the structure is as follows:
A – Invitation to the Protection of God
B – Forms of protection (there are 5)
A' – Another invitation to the Protection of God
B' – More forms of protection (there are 3)
C – The oracle of Salvation
Do you know what that means to me? Theme and Variations! Like this:
Theme
Variation 1
Variation 2
Variation 3
Variation 4
Variation 5
Theme
Variation 6
Variation 7
Variation 8
Embellished Theme
Excellent!
Oh, one more musical point:
Part of verse 2 of the psalm reads:
My refuge and my fortress: my God; in whom I trust
The last verse of the Oracle, or Edict, is this text, which I have altered ever so slightly:
With long life I will satisfy

I'll show him my salvation.
So the musical theme (or, melody) is actually based on these words combined –  you could almost use them to sing along with the theme!
I'm sure there's an official Compositional Device or term for doing that, but at this point that doesn't matter. What matters is the fact that such a technique exists, works, and it is in this piece.