THANK YOU!
Those of us who experienced #AskAConductor as founded by @mcmvanbree and @LaceyH in 2010 were thrilled at the opportunity to share our insight with current and potential audience members, and make new connections amongst ourselves. It's been an awesome ride!
@SashaMakila, @BatonFlipper, @Noam_Zur and I (and others) are continuing the legacy and are so pleased you have chosen to participate. It's SO EASY!
Here are some ground rules and the link to use:
The purpose is to encourage audiences to be more invested in live performances by enabling them to ask about whatever is on their mind.
The purpose is NOT to spark a conversation BETWEEN Conductors, please! You may contribute to someone's answer, but be wary of overwhelming the questioner (possibly a complete lay person) with too many responses.
On the other hand, feel free to ask your own questions for other conductors! But again, avoid conversing with them using #askaconductor.
You are welcome to invite other conductors to participate, especially those who specialize in choral, musical & film music.
Participation begins and ends at your local time. In reality the 'day' will last between 36 & 48 counted hours.
You may/ should answer in the language of the questioner, if possible.
Please answer one question at a time, and feel free to engage the questioner in a conversation.
Please 'reply' to the question so that the questioner's Twitter name is always included.
After signing in to Twitter, please use THIS LINK to participate. It will automatically add #askaconductor to your post, so you are already limited to 125 characters including the questioner's Twitter name.
Here's the link again: http://tweetchat.com/room/askaconductor
You are encouraged to continue conversations with questioners after the #askaconductor day. Remember the purpose? (It's #1 above.)
We have moderators who keep an eye on things. If they see something out of line with the purpose or any profanity, you will be reminded to get back on topic/ return to a dignified level of professionalism. Gently, at first.
Lesson learned: It will be very helpful if your audiences are aware of what time(s) you intend to be online. A few core conductors will be on & off all day, but you & your audiences will get the most enjoyment, engagement and satisfaction if your own fans ask questions the same time you're available to answer them!
Click here for the general info link you can share with your followers: https://www.stephenpbrown.com/askaconductor/
Again, THANK YOU for participating. This is an easy opportunity for us to engage our audiences as well as those who may have never yet attended a live concert. Please tell me below what went well, what could be improved, how much you liked the day, and whether or not we should do it again next year!
ENJOY YOURSELF!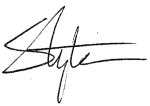 Stephen P Brown
P.S. Don't forget to tell your fans, followers and audiences the specific times you'll be online (if we're to accomplish #1!)