What are you working on?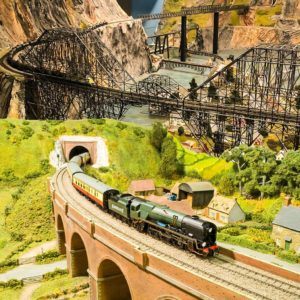 Do you have a hobby or skill that you pursue outside of your day job?
Some people build model train sets, others go ice skating. Some folk coach Little League baseball, and others knit.
What's your hobby?
(Tell me in the comments below).
It's interesting that over the past 10 days or so something has come to light in my world prompted by several emails following my "Keeping up appearances" post last week. That something is a project. No, a Project. Well, to be perfectly honest, it's a "Major Project."
Much of the encouragement and advice you've shared in comments, tweets and emails has been very uplifting and very wise. Perhaps the most common public perspective was how incredible it can be to have a mentor or two, and that's what Tuesday's post was all about. But several emails fairly unsubtley told me to get my act together, cease and desist the doubt and negativity, and get back to what SPB does best.
Those emails from a handful of well-respected people, plus two from people I've never met in person, were intimate and direct. They were and will remain private, but the common thread between them all served the same purpose and mentioned the same solution.
What I was like, once.
I think the purpose of those emails was not so much to get me believing in myself again, but to remind me of who I was – jog my memory of what I was like – lift me above the dark thicket and thorny brush to survey the vast pine forest I've been wandering in (musically) for several years, and combine that with all that I've learned in recent times. In other words, transition from a floundering find-your-footing thirty-year-old to a mature expert forty-something (My older sister would probably translate that as "Grow up!") OK, a little deep, perhaps, but isn't that something we all hanker for once-in-a-while? Maybe that's been my problem: I've been dealing with surface stuff for so long now that I've not taken care of the inner, deep things. Whatever your stance on that, I choose to acknowledge that we all have deep, personal issues to learn about, and I'm not going to brush them under the carpet or hide from them anymore (like the British are particularly renowned for!)
However, getting back to the real Me was only the first commonality mentioned in those emails. The second was this: a Major Project.
Yeah, yeah, yeah…
Before you sigh, roll your eyes up and shake your head at yet another SPB attempt at something, we're not talking about the trite little videos I've been publishing over the past few years. No, we're talking something different – something more in line with "me" – a project that will blow me (and hopefully you) away. This project will be something I can focus my energies on and produce a result that is actually outstandingly SPB-like, not a mediocre copy of what has (or appeared to have) worked for others.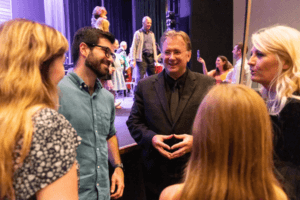 People matter.
It is clear my music career needs attention. No more fluff. No more scrounging around looking for something to do. Being a conductor is TOUGH because whatever you want to do, you need a bunch of people to do it with. Conducting 1 or 4 people is just dumb, yet finding players to form an orchestra is either nigh impossible outside the higher education environment or it costs a small fortune (believe me: my wife and parents know!) (It can be done, though – remember George Marriner Maull and his creation of the remarkable Discovery Orchestra in my last post?) And composing usually requires an ensemble who will play your music. Good luck with that! Well, I have been blessed: I am VERY fortunate to have many colleagues in the music world who have more confidence in me than I do myself, and they've taken on my music and performed it – most recently Jane Rondin of the Zephyrs Wind Quintet in New Jersey, and Alexandra Vago of the Blue Pointe String Quartet in Cleveland, Ohio.
You also matter. Thank you for taking this journey with me.
So I need a project. A big project. Something that will blow me away. Something I can do without relying on other people, and something that does not require me to put my hand out and ask for money. I need a music-related project in which I can find fulfillment.
Funnily enough, the disappointment that sparked this recent series of posts may provide just the right catalyst for that project.
Give me a few more days to figure out some nuances, and I'll tell you what the disappointment was, and what it and you have spurred me to do.
Shall we say, Friday next week? It's a date – look out for my next email then.
Your turn:
To help us all focus on what we do well in life, what is your hobby or Major Project right now? And how did you get into it? Write a comment below, and then share this post with your circles of influence – they will want to read what you write!