#PsalmQuest 11 – String Quartet 2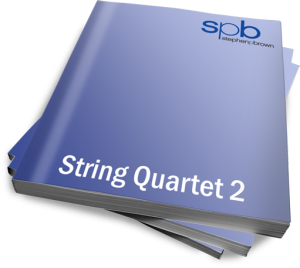 It feels like forever since I published a #PsalmQuest piece, and I guess it was, really – over a month ago! In fact, I finished composing that last piece at the end of September, so it's really been 8 weeks.
Some of that time was spent resting, but much of it was actually spent re-writing. This was a difficult piece to extrapolate from the recesses of reality and it saw several completely written-out ideas before I hit the 'delete' button on the whole lot. But it's here now, and it has quite a story to it, methinks…
String Quartet 2 (actually, the title was bothersome for quite some time as well, until I realized how simple it could be) is based on Psalm 97 and whereas the Longman/ Garland commentary has it broken into 4 sections, many other sources actually have it broken into 3. I went with C.E.O White's "A Christian Handbook to the Psalms" and chose three movements for this piece.
The ideas and concepts behind each movement shifted slightly, and although they started out encompassing three of the more easily defined names for God they each ended up as an intriguing mystery.
Movement 1
is about Yahweh. The opening passages of the psalm reflect glory and affirmation, magnificence and revelation. An overwhelming presence. I thought this could be nicely summed up as "Righteousness." But, is it mankind assuming his own righteousness or it is God as righteousness?
Musically, this movement is rather awkward but it seems to reflect the unstable authority with which anyone declares themselves as righteousness. The main theme is based on the phrase "I am Righteousness. Don't you forget it!" This was the hardest movement to complete and it went through multiple manifestations.
Movement 2
is about Adonai, the lord of lords, master of all. Somewhere online I found this also summarized as Justice. Currently true Justice in the Western world is a but of a joke with everyday folk moving at different paces to governments which are operating under different expectations of big Corporations, etc, all under the pretense of harmony. But, is it mankind demanding their own kind of Justice like a petulant child, or is it God declaring the fact that he is going to have justice whether we like it or not?
Musically, this is my favourite movement. It has a slow pulse but that hardly means the music is slow. The main melody is based on the aggressive phrase "Justice! I want Justice!" and leads us into a twisting and turning finger-numbing world of dizzying adventures, with lots of teamwork between the two violinists and a rarely-used key E minor, which is actually the enharmonic equivalent of the key that should be used: Fb minor (seven flats, if you know what that means. Er… no thanks).
Movement 3
is about Elyon, which reflects thoughts of strength, the most high, sovereignty and supremacy. In other words, Judgement. Again, we're not too clear on who is declaring judgement – it could be one of mankind's follies, or perhaps it is God reminding us that He actually created everything (in the same way that Bill Cosby once said to his son: "You know I brought you into this world, I can take you out!")
Musically this movement starts with an actual conversation! The first violin shares with us a little reminiscing, before the cello starts a new conversation whilst the viola and second violin try to keep the topic on track (you'll hear the "I am righteousness" and "I want Justice!" themes reappear). As the cello and viola head off in a new direction, the two violins stick together until one of them adds a comment and the other tries to stop them "Oh no you don't!" Eventually, though, everyone's on board, there's a big "ta-dah!" in celebration, and then we explore Judgement to the end of time.
I take it back – maybe this last movement is my favourite. It was certainly the quickest to be written after the other two struggled to appear.
Click here to get your own copy of the sheet music
Please leave a comment below letting me know what you think, and if you plan to perform it, be sure to add it to this page: https://www.stephenpbrown.com/concerts/