Why Are Classical Music Audiences Old, and Should We Care?
There is a lot of talk these days about the advancing age of classical music audiences. In truth, this conversation has been happening for quite some time. We've been hearing about it lately, but we've been talking about it for the last thirty years or so.
We thought we'd take a look at this stereotype and address a few pertinent questions: Is it true? (Yes) Why? (Many reasons) Does it matter? (Depends) Is there anything we should do about it? (Absolutely! The same things you should be doing for all of your audiences, regardless of age)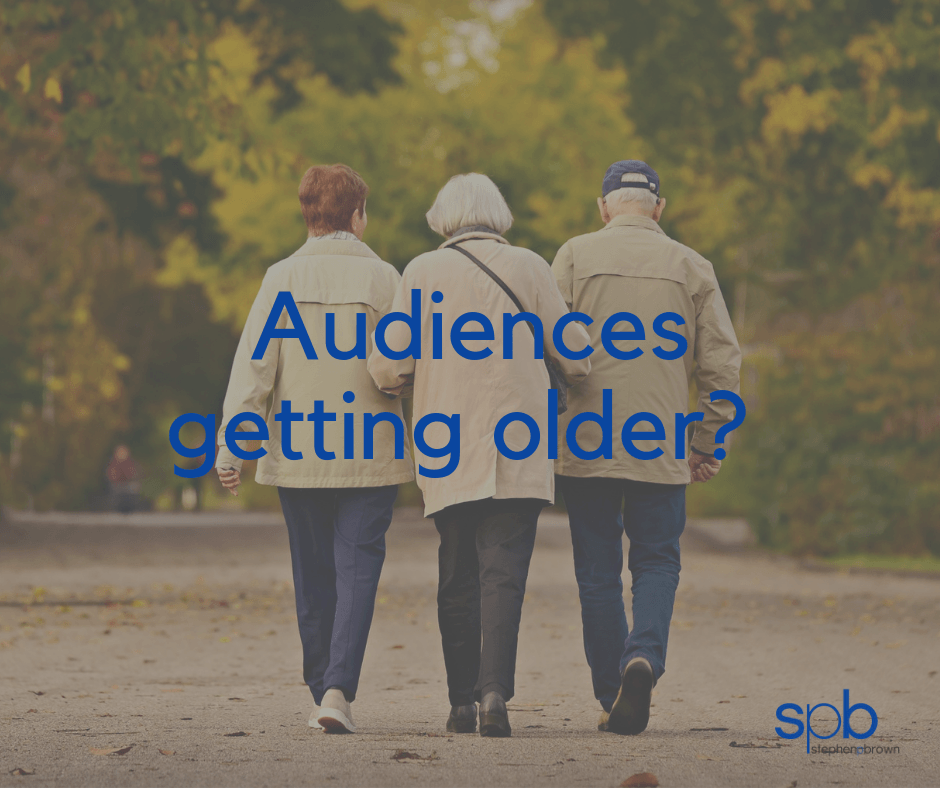 Why are classical music audiences old?
Classical music has always attracted a more mature audience. Sure, when you look out from the stage you'll see a handful of children and young adults, but statistically speaking, 42% of classical music concertgoers are 41-60, and 37% are 61 and over. These statistics have led to some panicky discussions about the future of live classical music, the often unspoken subtext being that the audience is literally dying out.
This is hooey, to use a technical term.
Yes, audiences are getting older, but the general population is also getting older. People are living longer and remaining active long past the life expectancy of 50 years ago. This means that people that enjoyed classical music in their 30s and 40s are still attending concerts into their 60s, 70s, and 80s. The longevity of our audience is hardly something to bemoan.
So, the real question is not, why are classical music audiences old, but rather, why don't more young people attend classical concerts?
Time and taste
Retired people have more time to attend cultural events in general. Young people, say those in their 20s and 30s, are in the midst of building careers and raising families. When they finally get home from work, the idea of heading back out, fighting for parking, and sitting to listen to a concert just seems exhausting. If there are children involved, finding a sitter, or hoping for good behavior during a quiet performance can be overwhelming.
By the time people reach their mid-forties, many have already established their careers and have older children that no longer require sitters. By retirement, the day is wide open. It's no wonder that these people show up to classical concerts more often.
Of course, younger people do go out. They do attend concerts, just usually not classical performances. Why is that?
The first reason is utterly subjective. As we age, our tastes and priorities change. Who knows why, but classical music seems to become more appealing the older we get. Even Sting, made famous as a young man in the rock band, The Police, has become progressively more interested in classical music. A recent album features a 42-piece orchestra and traditional British tunes.
Perhaps older people have simply had more exposure to classical music. Perhaps loud music and light shows just become less appealing as we age, making this year's top rock concert easy to skip.
Or, maybe it's about community. (It is)
Creating experiences and finding a tribe: the surefire way to reach an audience of any age
Attending any live event, classical or otherwise, requires a substantial amount of effort. Why should anyone bother? If it's all about the music, why not just stay home and listen to recordings?
It isn't all about the music.
It's about the experience.
Many of us have shelled out cash to go to a show we weren't particularly interested in simply because our friends were going. We went for the community, the dancing, the food, the drinks. We went because it offered us what we needed at the time– a tribe to belong to and a way to relax.
When we put classical concerts on a pedestal by demanding that they be all about the music (and our stellar, virtuosic performance) we are overlooking our audience and what they actually need. You are a wonderful performer, that's a given, but if you want to develop and retain an audience (of any age) you need to become a wonderful programmer as well.
Classical performances of well-loved pieces from the 18th and 19th century given in a quiet recital hall are lovely. They definitely have their place and serve their purpose. But when you consider the needs those concerts fulfill (quiet, calm, enlightenment, and sheer beauty), you can also recognize the audience that is seeking to have those needs fulfilled – namely an older audience.
If you want to attract a younger audience (and no one says you need to), you must figure out how to design a program to meet the needs of those younger people. How can you make the experience most enjoyable?
If you're looking for an audience in their 20s and 30s consider this:
Book a room in a trendy area or a location near where people work. Look for a venue with an onsite bartender and snacks. Consider doing several short sets that allow the audience plenty of time to grab refreshments and socialize. Choose music by living composers, or favorites from the 20th century.
Remember, if you always do what you've always done, you'll always get what you've always gotten. If you want a different audience, do something different.
Classical music audiences tend to be loyal. They come back year after year – of course they are aging. That's to be celebrated!
Spend more time making your audience's investment in you worth their while by crafting delightful experiences and less time worrying about your audience's longevity, and you'll find yourself with a thriving fan base and a long-lived career.
If you would like to hear SPB in discussion with his friends and fellow musicians regarding this topic, head to ClassicJabber.com now.
If you are ready to learn more about how to build a profitable, fulfilling career as a performing classical musician, check out Concert University, and the free webinar that outlines 5 strategies for success.